Improve Your Visitor Experience with Sign In Notifications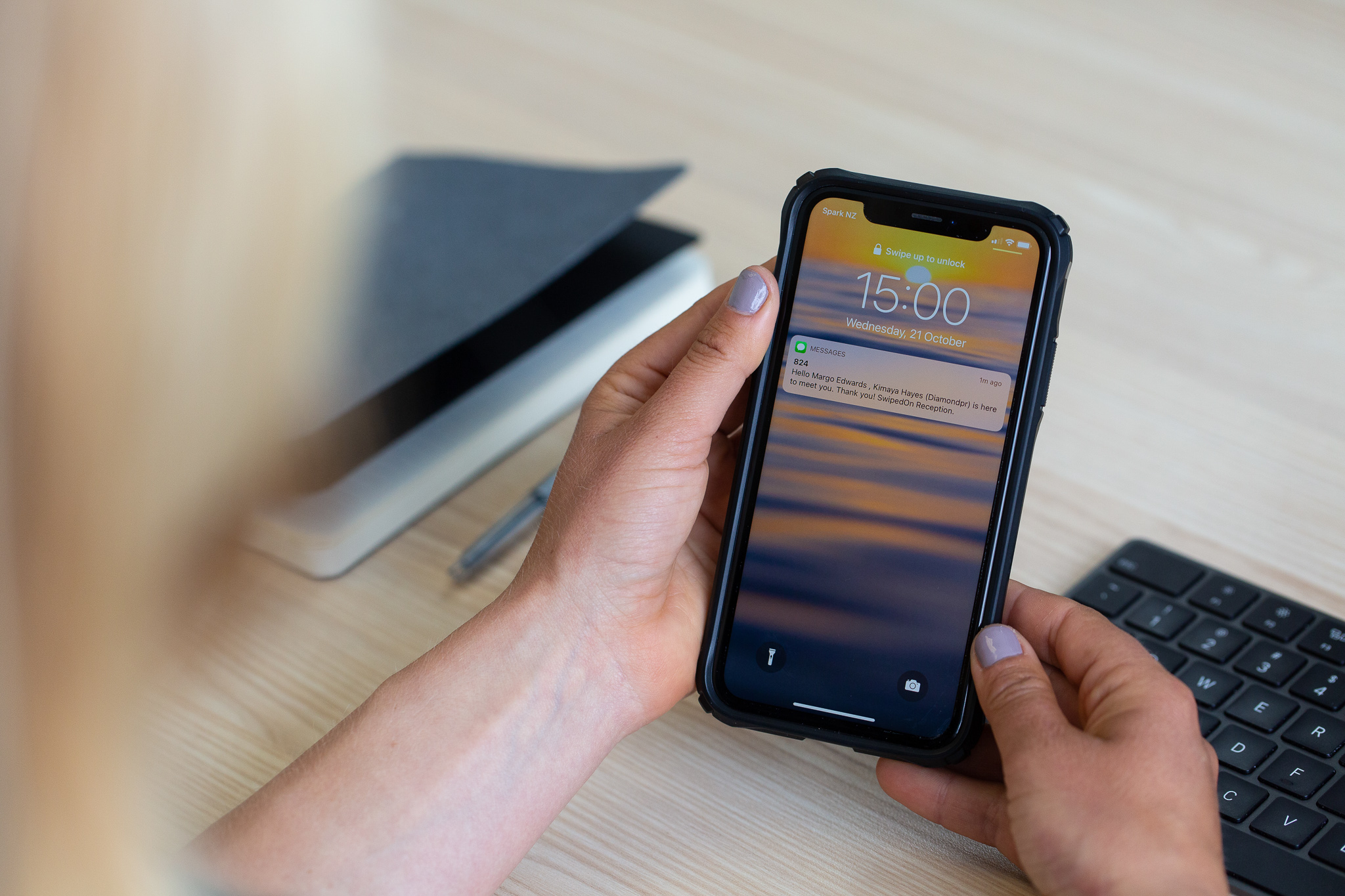 In today's highly competitive industry landscapes, setting your business apart from the rest and establishing a professional image is paramount. This encompasses all aspects of business operations—from product development and marketing to team management and communication, right through to welcoming visitors into your world.
Thankfully, the days of the paper visitor book are well behind us. A modern workplace sign in solution is designed to help workplaces of any size gain a competitive edge by supporting everyday tasks in efficient and professional ways.
These types of platforms can include a range of functionalities for managing the different processes at your workplace. Combining all these features enables you to establish your company as one that values innovation and efficiency.
Sign in notifications are a small but important function of a digital check in system. Besides alerting employees upon their visitor's arrival (streamlining the process for everyone involved), they offer multiple benefits for your business. They help address front desk and visitor management issues that would otherwise impair the workplace atmosphere and productivity.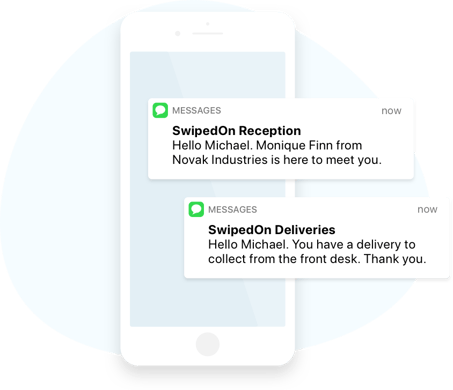 No matter who you're welcoming—customers, suppliers, or partners, regular or first-time visitors—the way you greet them matters. If it's their first visit to your premises, research shows you have seven seconds to make a good impression on them. This could be a deal-maker or a deal-breaker—so it's essential to implement streamlined sign in practices.
We'll go over some of the most common challenges businesses face in regards to their visitor welcome and the ways a digital sign in system and sign in notifications can help you overcome them.
Common sign in struggles
Inefficient visitor sign in can result in losing potential customers, inadequate compliance practices, and introduce unnecessary threats to your premises. Here are a few common sign in challenges you may face:
1. Not knowing who is on your premises, and why
Imagine your front desk is not covered for just five minutes, or there is no designated receptionist in your flexible workplace. Arriving visitors who are not attended to pose a number of risks:
Your front desk staff don't have a real-time view of who is on the premises, their whereabouts, and why they are visiting
Security is breached, leading to possible physical damage to your premises, data, and even harm to employees
An ill-managed front desk and poor visitor experience can damage your reputation and brand
These workplace management issues also impact your staff if neglected. Interruptions can halt an employee's momentum and make them lose focus; did you know it takes between 8 and 25 minutes of recovery time to regain focus and resume work?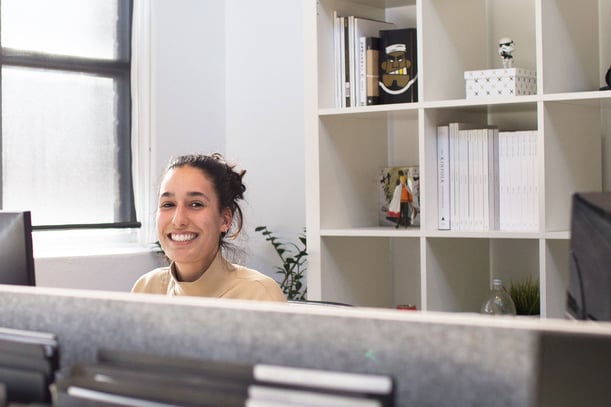 2. Not knowing who's in and out of the office in an emergency
Emergencies in the workplace—such as fires, earthquakes, chemical leaks, or even false alarms—can introduce significant risks to the health and safety of both your employees and visitors. The National Fire Protection Association reports 111,000 non-residential fires that caused an estimated 1,200 casualties in 2020.
In an emergency, it's crucial that you know who is on the premises and who is not. Emergency responders also need to know where individuals are located in order to ensure everyone has evacuated safely.
3. The risk of leaking sensitive information
The most critical assets on your premises are often intangible. The sensitive information stored on your office computers and on-site servers can be crucial for your project development and business growth.
As reported by Farsight, 815 cyber attacks and data breaches for only seven months (from January to July 2021) in the UK alone resulted in close to 4 billion breached records. Physical attacks and gaining access to the data storage site account for 10% of malicious data breaches. Unauthorized visitors and thefts of information storage devices and documents are top physical security threats.
Lack of adequate access control, transparency, and accountability can leave your sensitive data vulnerable. You're also at serious risk from unexpected and unaccounted visitors entering your premises with the intention of disruption, damage, or theft.
How sign in notifications can help
The benefits of sign in system with notifications go well beyond simply letting your employees know that their guests have arrived. Let's take a look at some key advantages your business can enjoy by utilizing this often workplace sign-in feature.
Gain better transparency over your business
Setting up visitor sign in notifications enables you and your team to know who your visitors are, why they're visiting, and who they're visiting. Also, your reception desk will know that the people in the reception area will be attended to so your reception staff can manage arrivals more efficiently and take care of other tasks.
Workplace sign in software with notifications gives you real-time access to all the important data (e.g., time of sign-in, sending the alert, notification confirmation times; as well as host and visitor names and purpose of the visit). You'll know who is in your building at all times. With this enhanced transparency, you'll be able to address safety issues and analyze visitor traffic in your organization to improve security.
The SwipedOn system also has visitor sign out notifications. These are a great way to add an extra layer of safety to your business. For example, if you have large sites with contractors and visitors coming and going unsupervised, it can be a helpful precaution to receive a notification that they have signed out, so you know they have left the site safely.
Save time and support employee focus
The hosts in your company can receive email, SMS or push notifications upon their visitor's arrival so they are up-to-date regarding the status of their appointments and meetings and guests and clients aren't left waiting while your reception staff tries to locate the host.
Deliver better customer service
Your organization sets the stage for making a good impression when customers experience a well-organized welcoming. You can minimize queuing at reception and ensure all parties have been notified so no one is waiting.
Protect important assets
Implementing a visitor management system and notifications gives you better control in ensuring unauthorized individuals do not freely enter your premises. This facilitates the security staff operations by providing them with real-time visitor data.
Reducing the risk of physical threats will help you prevent data breaches and theft, which can seriously disturb your business operations and impair your reputation. Knowing who's on your premises—and why—is essential to the safety of both visitors and employees, and enhancing the security of your assets. Setting up sign-in notifications offers additional benefits of creating a more productive environment and improved visitor experience.
To improve your sign-in experience and workplace management while making a great impression, sign up for SwipedOn's 14-day free trial today.