Why Integrated Solutions Create a Better Visitor Experience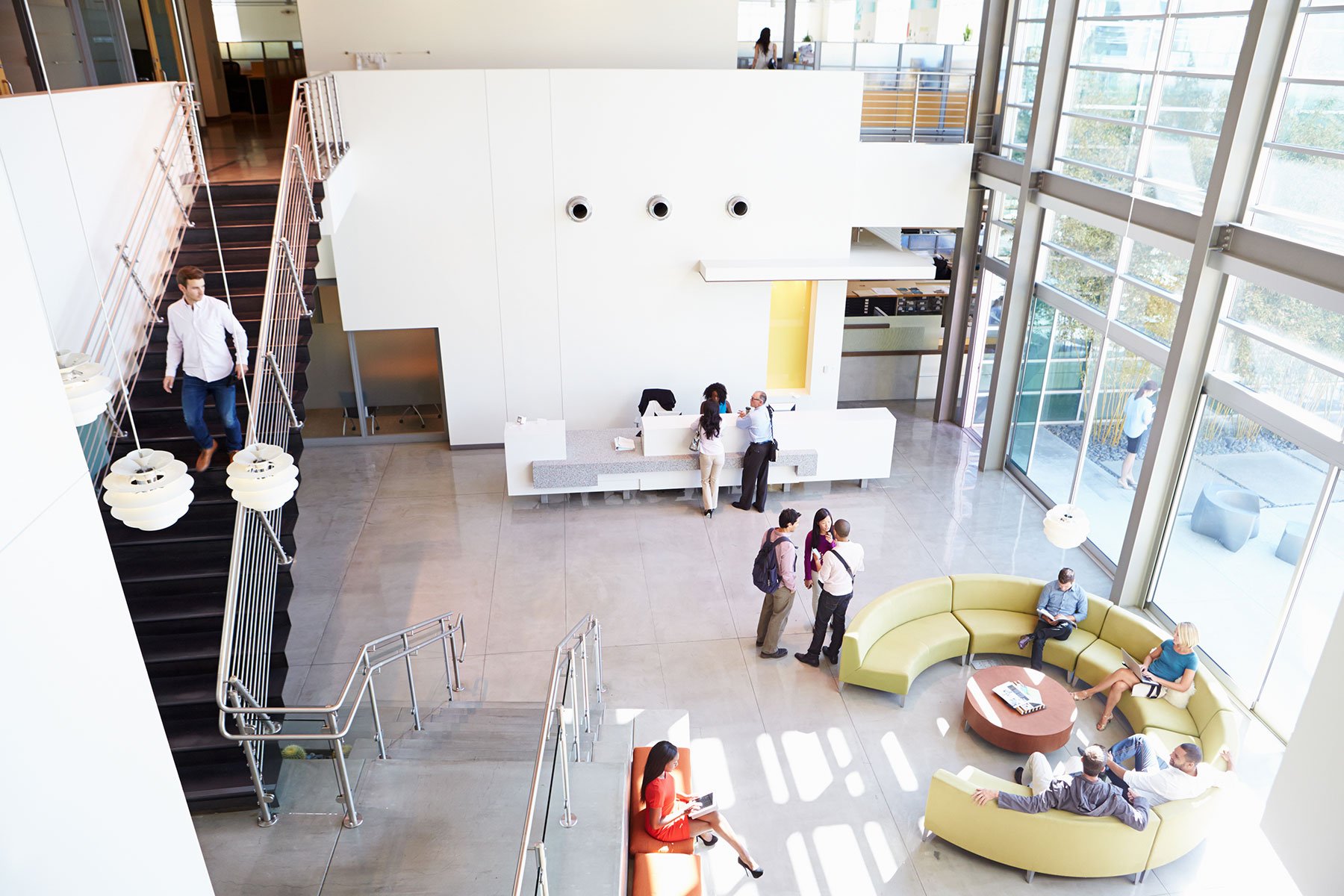 A welcoming lobby sets the tone for the rest of your guest's visit. It takes around seven seconds for someone to make up their mind about a business. Visitors who experience a poor welcome may feel negative about a company before they even leave the front desk.
Integrated solutions are a driving force behind smooth sign ins and offer an effective way to manage the hybrid workplace. Efficient sign in flows for people entering and exiting the workplace also results in time and cost savings, as well as increased safety - something that's particularly important during the pandemic. Companies need to work hard to comply with public health guidelines, as well as ensure that visitors, employees, and contractors feel safe when entering the premises.
In this article, we'll guide you through what integrated solutions are, and how they make the visitor experience welcoming, safe, and hassle-free.
What Are Integrated Solutions?
Integrated solutions combine the benefits of cloud connectivity, artificial intelligence, and Internet-of-Things technology to create a seamless sign in experience. These smart technologies support administrative tasks, health and safety precautions, and visitor self-service, helping ensure the welcome is a positive - and safe - experience.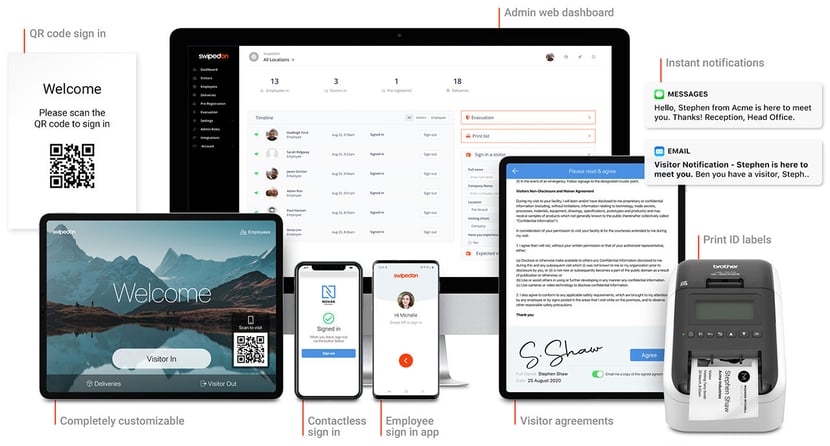 Integration solutions simply mean every element of the sign in process is connected to something else. For example, integration between visitor data collection and the business' cybersecurity systems means that data is safe and under the same rigorous protection as any other data held by the company. On the flip side, not having this integration in place could create a security weakness that puts your guests' personal information at risk.
How Integrated Solutions Create Positive Guest Experiences
From freeing up the receptionist's time to allowing visitors to check themselves in and out, here are some of the top benefits that sign in integrations can provide.
1. Easy Self-Service Sign In
There's nothing more frustrating than being held up at reception when there's an important meeting to attend. Rather than have guests wait for the attention of busy front desk staff, electronic check-in software allows them to sign in immediately. Integration with an instant messaging tool can instantly alert the relevant host(s), allowing the receptionist to focus on creating a warm environment and better managing the front desk.
As well as creating a good first impression, efficient sign in processes ensure uninterrupted schedules and appointments, which translates into time and cost savings.
Being held up at reception could delay a meeting. Over a year, these costs soon add up (Image Source)
Self-service sign in also reduces face-to-face contact between visitors and reception, helping ease safety concerns and lower the risk of virus transmission. Other options include remote sign in done via invitation emails containing information about health regulations and screening questions; and contactless entry systems that help visitors avoid direct contact with shared surfaces.
2. Improved Safety and Security
Reception staff need to know who's entering and exiting the building - and integrated solutions can help.
Integrations with external watchlists can flag individuals who are wanted by the authorities, while panic alarms can automatically notify security in the event of an emergency or intruder. Integrations with printing machines allow guests to create visitor badges, while symptom screening questions can help keep employees safe from new people entering the premises who could potentially be unwell and therefore pose a risk to the business; something that's proven especially vital during the pandemic.
Having security integrations in place improves the safety of your organization and makes it easy to quickly and discreetly resolve issues.
3. A Personal Touch
Most (84%) customers say being treated like a person, not a number, is very important to winning their business. When it comes to sign in processes, it's the little things that make all the difference. Greeting people by name, anticipating their needs, and knowing why they're there makes guests feel welcome and in safe hands. This kind of personalization can begin even before they step foot in the door: Integrating visitor information with automated emails can make invitations feel more personal before visitors arrive on the premises.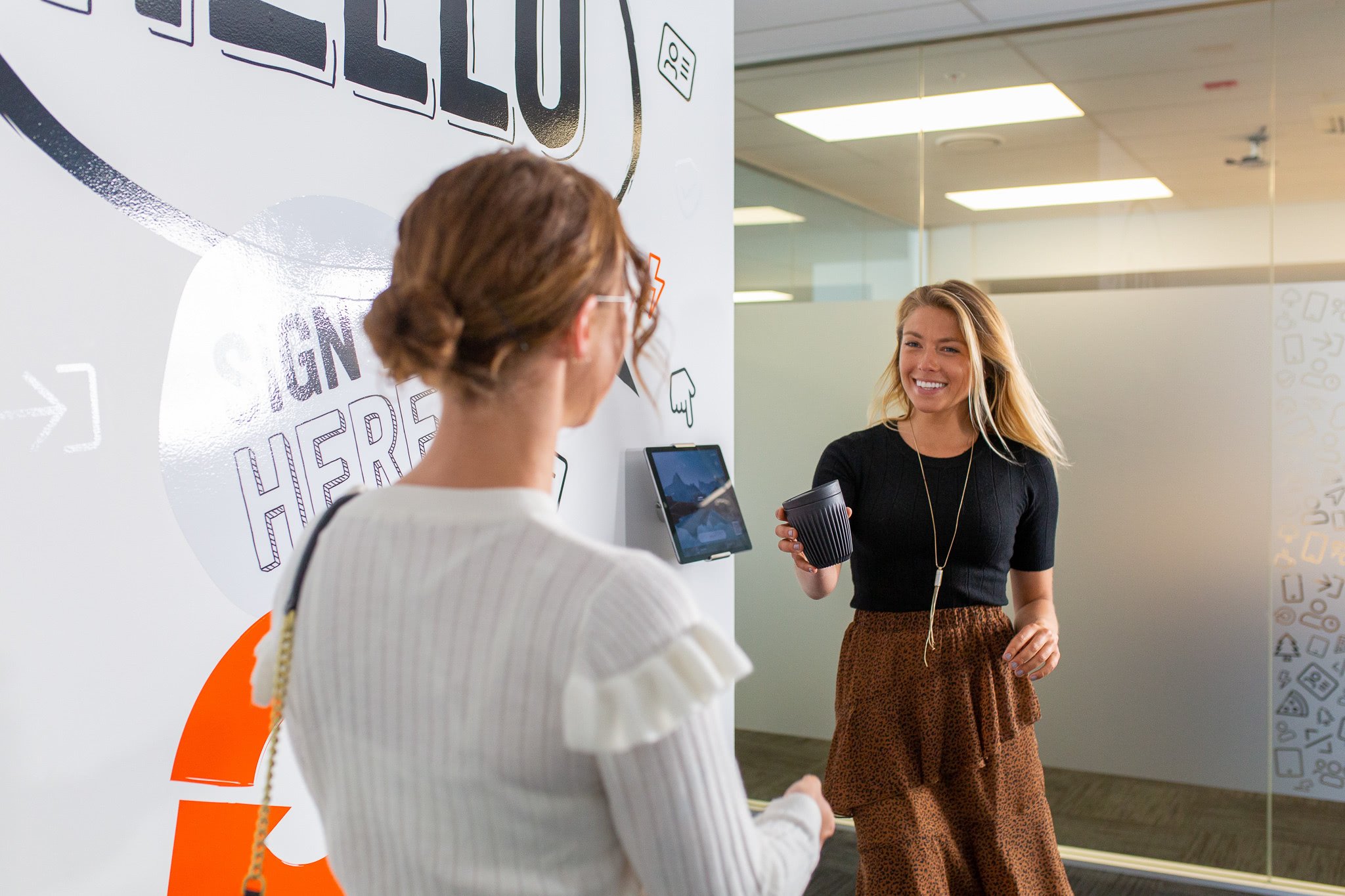 4. Seamless Data Collection
Data can be extremely valuable when it comes to improving your operations. Finding out things like footfall, visitor peak times, and typical visitor behavior can help managers plan front desk staff, resources, and even building layout improvements. Meanwhile, security integrations can ensure the safety of that data with things like anonymization or encryption, data deletion, and access controls. Integrated solutions can also help you stay compliant with GDPR, HIPAA, and other privacy laws.
6. Enhanced Scalability
As businesses grow, the ability to cope with more complex operations without delays and confusion will help keep operations running. Incorrectly introducing new technologies, or continuing to use outdated and inadequate hardware-reliant systems can hinder growth and cause frustration among staff and employees.
Integrated solutions help to minimize the growing pains of a business. They're flexible, secure, and scalable while streamlining data in real-time across multiple systems. The overall result is a frictionless connection between people, services, and systems.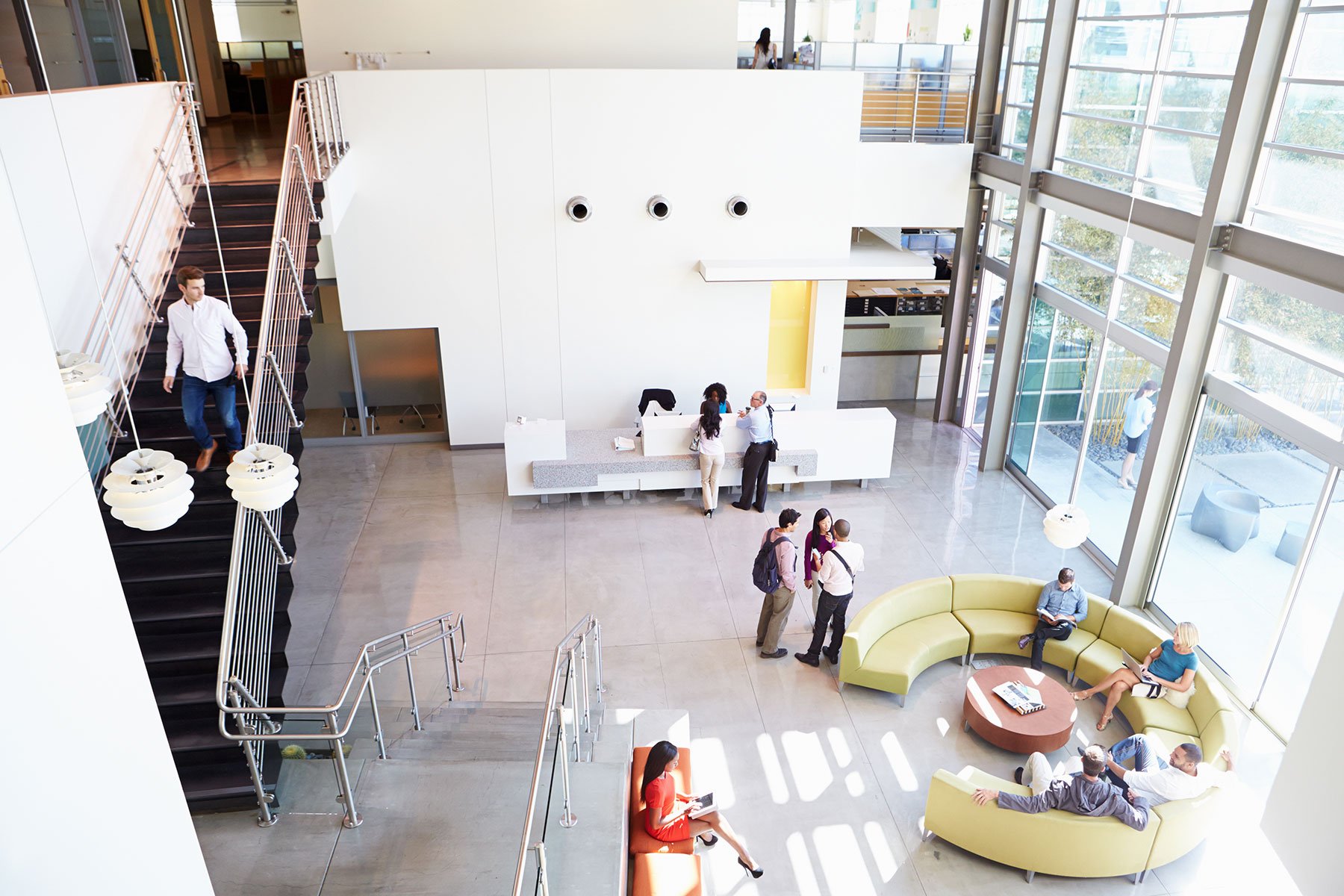 How SwipedOn Can Help
SwipedOn integrates with a range of business tools to keep your business running smoothly. Maintaining accurate records of all employees and visitors takes work, especially if you're working across multiple systems and in a hybrid workplace. With SwipedOn Active Directory sync, you can set and forget, and your employee list is automatically updated.
Switching from paper to digital, automating sign in procedures, and speeding up visitor registration comes with cost savings. Visitors have a better experience, which could lead to increased (or repeat) business, and front desk staff can spend more time on priority tasks.

Our visitor management software is equipped with contactless sign in features that allow employees and guests to register securely through their mobile devices and share sensitive information with a reliable, compliant solution.