SwipedOn Named a Leader in G2 Crowd's Winter 2019 Visitor Management Software Reports
The G2 Crowd Winter 2019 reports are officially out and we are thrilled to announce that SwipedOn has been ranked as a market leader for visitor management software.
According to the 2019 Winter Report, SwipedOn was listed as a leading visitor management software solution based on having a large market presence and receiving high customer satisfaction ratings from real product users on G2 Crowd, the world's leading business software review website.
This resulted in SwipedOn being named the overall market leader in the Implementation, Usability and Results indexes. Including, taking out the top spot in the Relationship index among products competing in the mid-market visitor management space. We are particularly pleased at gaining the "Best Results" badge, for being ranked top of the list for return on investment, really highlighting the exceptional value our users see.

Most notably, SwipedOn was ranked highest overall in the user adoption category with 96% compared to the category average of 80%. As well as achieving the highest satisfaction score in the mid-market space, scoring 81% overall in customer satisfaction.
"It's an honour to have SwipedOn recognised as a leader in the competitive visitor management space by such a trusted software review platform," said Hadleigh Ford, CEO of SwipedOn.
"Delivering an efficient, user-friendly visitor management solution along with generating high customer satisfaction is a top priority for us, so we are extremely proud to see SwipedOn ranked highest in these categories - it's also validating to see this reflected in our current monthly NPS score of over 70. Indeed, we are incredibly grateful to our customers for sharing their feedback and look forward to continuing to build a world-class product that meets their visitor management requirements throughout 2019."

Here's a closer look at what our customers had to say:
100% of users rated SwipedOn 4-5 stars.
97% of users are highly satisfied with the quality of support.
98% of users believe SwipedOn is headed in the right direction.
97% of users say they would recommend SwipedOn.

One customer commented "The ease of setup and roll out combined with sufficient functionality and competitive price made Swipedon an easy choice." The review went on to say "Brilliant example of an easy to deploy cloud-based solution with a functional app, which took us less than a day to put into production."
While another customer made mention of SwipedOn's customer support "The customer service I received so far is among the best I ever experienced. People from SwipedOn are very knowledgeable, professional and friendly at the same time."
What do SwipedOn users have to say?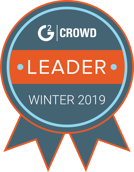 About G2 Crowd
G2 Crowd is the world's leading business solution review platform and leverages more than 500,000 user reviews to drive better purchasing decisions. Business professionals across a wide range of industries use the site to compare and select the best software and services based on peer reviews and synthesized social data. The Winter 2019 Visitor Management Report is based on reviews collected through November 2018.